Leshan Travel Guide
Leshan City, famous for Leshan Giant Buddha, is one of the must-see destinations for most travelers who visit Sichuan. It is about two hours' drive from Chengdu. Visitors can reach the top of the great Buddha, and climb down from its head to feet, or take a river cruise in front of the Buddha Statue. Also, we highly recommend the delicious local food to you.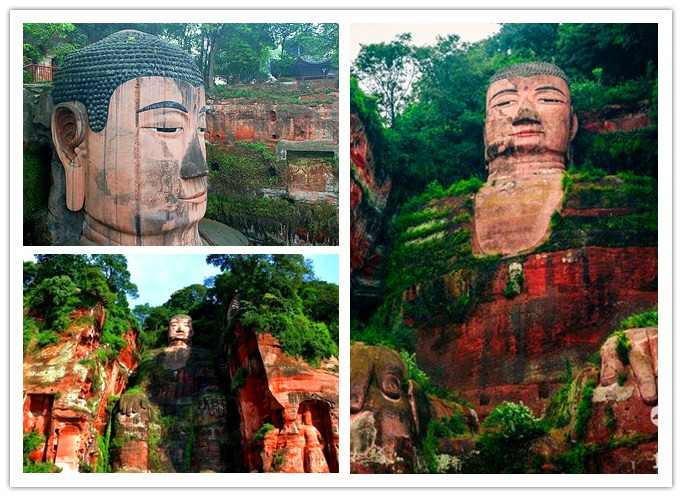 How to Get There
Since there isn't any airport in Leshan city, travelers who want to visit Leshan Giant Buddha can go from Chengdu city or Shuangliu International Airport directly by both highway or high-speed train.
Get to Leshan City by Car
Travelers can take private cars or long-distance buses from Chengdu downtown, or Shuangliu International Airport to Leshan City. It takes about 2 hours. There are two downtown bus centers offer scheduled air-conditioned long-distance coaches from Chengdu to Leshan city. One is Xinanmen Bus Station and the other is Shiyang Bus Station.
Get to Leshan City by Train
The most convenient way to get to Leshan by train is to take the Chengmianle Intercity High-speed Train, which only takes about 45 minutes. The high-speed train will get to Leshan Railway Station. There is also a North Railway Station for ordinary trains to this city.
Things to Do in Leshan City
Leshan Giant Buddha Scenic Area is the must-see highlight of Leshan City. The world-famous Giant Buddha, carved into the western river cliff face of Lingyun Mountain, was included by UNESCO on the list of the World Heritage sites in 1996. Praised as the largest and the tallest carved stone Buddha Statue in the world, the Giant Buddha stands 70 meters tall. What makes the Giant Buddha so amazing is not only because of the huge size, but also the drainage system made of hidden gutters and channels. Because of this complex system, rainwater can be drained off, and the inner parts of the Buddha can keep dry and survive intact till now.
The opening hours of the Leshan Giant Buddha Scenic Spot:
1 st, April – 7 th, October ( Peak Seasons ): 07:30 – 18:30
8th ,October – 31st, March ( Low Seasons ): 08:00 – 17:30
Once you choose to take train to Chengdu, please pay attention to which railway station you get off the train.
Best Time to Go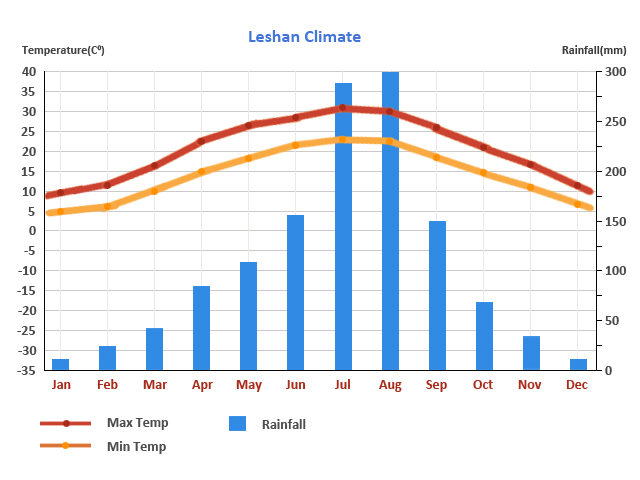 For the advantageous location in the southwest of the Sichuan Basin, the climate of Leshan City is fairly good, featuring a mild winter and a relatively cool summer. The best time to visit Leshan Giant Buddha is spring and autumn for it is neither rainy nor could.
Departure: Private Tour / Flexible Dates
Route: Chengdu / Leshan / Chengdu

Leshan Giant Buddha is a world known heritage site as well as a magnificent Buddhist sacred site. It is only about 2 hours's driving from Chengdu downtown. On this tour, you will not only visit the Giant Buddha closely, but also go to have an interesting visit to the Off-The-Beaten-Path Jiajiang Thousand Buddha Cliff which is not far from the Giant Buddha.
Departure: Private Tour / Flexible Dates
Route: Chengdu / Leshan / Emeishan / Chengdu

This is the ideal trip for those who want to get diverse things to see and experience. Take a exciting visit to Giant Panda Base. You won't also miss other highlights in Chengdu, such as Jinlin Street, Wenshu Temple, etc. Then take a side trip to world heritage sites – Leshan Giant Buddha and Emeishan Mountain, which will astound you with incredible Buddha statues, grand temples as well as fabulous landscape on Emeishan.
Hand-Picked Valuable Sichuan Tours
Chengdu Jiuzhaigou HIghlights Tour - 5 Day

Route: Chengdu - Jiuzhaigou
Leshan Giant Buddha & Emeishan Mountain Tour - 5 Days

Route: Chengdu - Leshan - Emeishan - Chengdu
Mount Gonggashan In-depth Hiking – 9 Days

Route: Chengdu - Kangding - Gongga - Chengdu