Seda(Sertar) Travel Guide
Seda, also known as Sertar, is a Tibetan town in northwest Sichuan Province. It is located by the meeting point of Sichuan and Qinghai Province. It is neighboring Ganzi, Shiqu. It has a population of about 16,000 and an elevation of 4000 meters above sea level. Seda is far and cold but it is home to many Tibetan cultural wonders and beautiful landscape.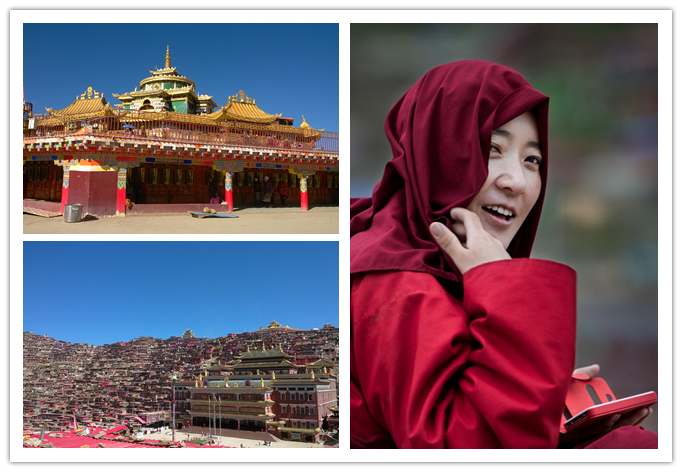 How to Get There
Everyday there are three buses depart Chengdu Chadianzi Bus Station at around 6:30 in the morning to Seda. Bus ticket costs about 240 yuan per person. The ride takes about 15 hours before it reached Seda. The bus will make a stop by the entrance of the Seda Wuming Buddhist School before it continues driving to the town of Seda for another 20km. But if you want to stay overnight b the school, you can always find share-taxi by the entrance of the school. These shared taxi charges about 20 yuan per person driving you from the school to the town.
What to see in Seda
Seda Wuming Buddhist School
Seda Wuming Buddhist School, or Larung Gar Buddhist Institute, is located in a valley called Larong 20km south to the town of Seda. It is considered one of the biggest Buddhist schools in the world. It was know by the world since 1990s. Lots of Buddhist masters studied and graduated from here. In this valley, thousands of houses spread out over the mountain sides. All the wooden houses are with red color and used as dormitories for Lama (monk) and Juemu (nun). By the top of the mountain lie a few temples and Buddhist halls. These temples are not considered big but all in a full and even overwhelmed decoration. The most significant construction is the Temple City by the top. It is the destination of a pilgrimage that is done by many deep-faith Buddhists. It is widely believed to walk around the Temple City (Zhuanjing) and turn the wheels bring you good health and luck.
Devil Conversion Tower
It is located 2km outside of Seda town. This tower was built at the beginning of 20th century. It is 52 meters tall and has 9 stories. It is a beautiful tower and a good place to explore in Seda.
Seda Golden Horse Festival
Golden Horse Festival is a big event to worship the nomads' god within Seda. The festival falls on the fourth day of the fifth month in Tibetan Lunar Calendar.
The other Buddhist interests in Seda also include Jixiang Buddhist Library, Laze Monastery, Naze Gompa, Dalong Monastery and Sera Monastery.
Best Time to Visit
The best time to visit Seda is in June and September. Raining season is between June and September each year. Winter comes by October until the next March when the temperature drops down to as low as -10C. Air is very dry and oxygen is lower than standard due to the high elevation at Seda. During summer time which is July and August, the temperature is between 10C to 20C.
Recommended duration of stay: 2 nights 1 day
Departure: Private Tour / Flexible Dates
Route: Chengdu / Seda / Tagong

This 4-day Seda Adventure Tour brings you the sublime experience of one of the biggest Buddhist Schools in China. This trip is short to save your time by using the quickest transfer where possible. This tour is a fully guided by our English-speaking guide so you will have a better experience to see and feel local Tibetan culture..
Hand-Picked Valuable Sichuan Tours
Chengdu Jiuzhaigou HIghlights Tour - 5 Day

Route: Chengdu - Jiuzhaigou
Leshan Giant Buddha & Emeishan Mountain Tour - 5 Days

Route: Chengdu - Leshan - Emeishan - Chengdu
Mount Gonggashan In-depth Hiking – 9 Days

Route: Chengdu - Kangding - Gongga - Chengdu