Qingchengshan Travel Guide
Qingchengshan, located 54km southwest of Chengdu city in Sichuan Province, is one of the ancient cradles of Taoist in China. It is also an intriguing scenic spot, which is covered by luxuriant and verdant trees. It is praised as 'the most peaceful and secluded mountain under heaven' for its evergreen scenery. And the name 'Qingcheng' means a town covered with evergreen forest in Chinese.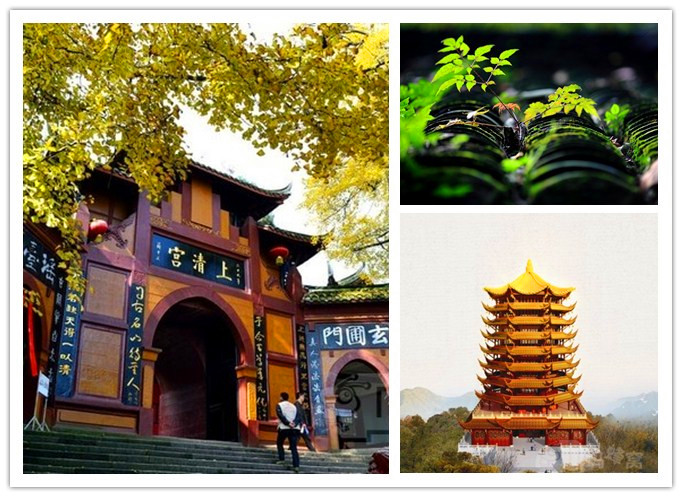 What to see in Qingchengshan
Taoist Culture Heritage
There are numerous Taoism temples and sites along the paths to the peak of the anterior Mt, Qingcheg. At the foot of mountain, Jianfu Temple is a well-preserved Taoism temple from the Tang Dynasty. Tianshi Cave, located halfway up the mountain, is the temple and school of Zhang Daolin, a famous Taoist master who taught here and contributed greatly to spreading Taoism in China. Sangqing Temple, at the peak of Qingcheng Mountain, was originally established in the Jin Dynasty, while the current temple buildings are Qing Dynasty constructions.
Natural Beauty
Qingcheng Mountain is famous fot its secluded tranquility. The name 'Qingcheng' means Green Town in Chinese, for it is lush and green all year around. It is surrounded by countless peaks and densely covered by ancient threes. The posterior Mt. Qingcheng is noted for its paradisiacal scenery, while the anterior mountains is famous for its numerous cultural and historic sites.
The posterior Mt.Qingcheng is also a wonderful hiking area with much less touristy and many links to over 80km worth of very green and lush hiking paths.
How to Get There
By Car
It is convenient to take shuttle buses from Chengdu downtown to Qingchengshan. It tke about 1 hour. Chengdu Chadianzi Tourism Bus Station is the nearest bus station to Qingchengshan, offering scheduled buses to Qingchengsha, or travelers can take buses in the square of Chengdu Railway Station.
By Train
Nowadays, travelers can take a express train from Chengdu North Train Station to Qingchengshan. It takes about 50 minutes, and the price of ticket is 15 RMB. For the tickets often sell out ahead of time, it is best to buy tickets in advance. Once you get off at Qingchengshan Railway Station you can take No.101 bus from there to Mt.Qingcheng Scenic Area.
Best Time to Go
Mt. Qingcheng is one of the most popular summer resort for Chengdu local people to escape the hot temperature in summer. The annual average temperature of Qingchengshan is only about 15 centigrade, so that travelers should take a coat even in the summer. Also influenced more by the surrounding mountains than the Sichuan Basin, Mt.Qingcheng is subject to frequent rain and fog. Please bring rain-gear while hiking the mountain.
Hand-Picked Valuable Sichuan Tours
Chengdu Jiuzhaigou HIghlights Tour - 5 Day

Route: Chengdu - Jiuzhaigou
Leshan Giant Buddha & Emeishan Mountain Tour - 5 Days

Route: Chengdu - Leshan - Emeishan - Chengdu
Mount Gonggashan In-depth Hiking – 9 Days

Route: Chengdu - Kangding - Gongga - Chengdu