Panda Volunteer Program - Care Giant Panda in Your Way
updated on August 7, 2017
Let's together make a real impact in saving endangered Giant Pandas!
Latest News: The reservations of Panda Volunteering Program in August at Dujiangyan Panda Base is full. If you are interested in joining the volunteering program, please select other months. Currently September, October, November and December are available to register.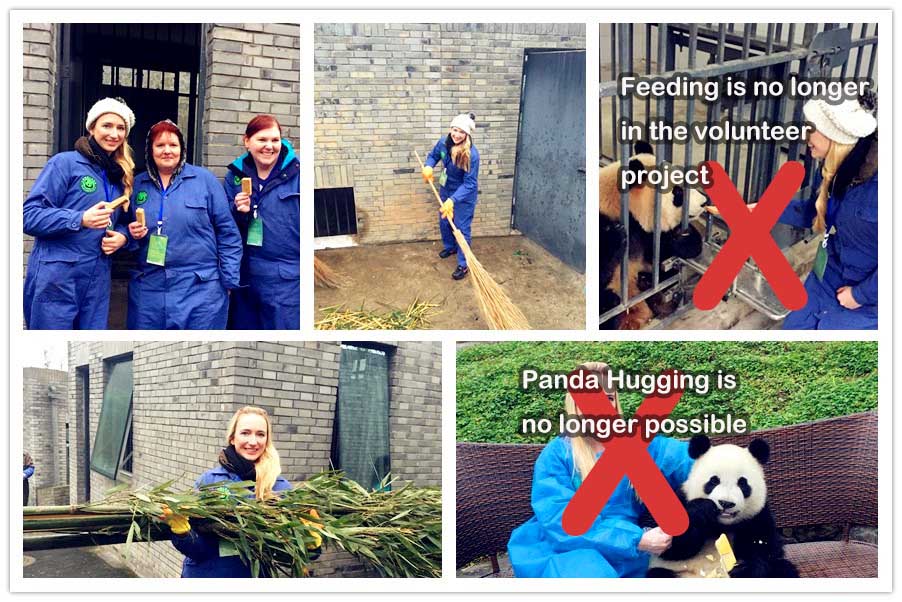 Do Something Helpful to Protect Giant Panda
Giant Pandas are adorable and beloved by everyone. But this beautiful creatures are endangered and facing a growing challenge for breeding both in the wild and captivity on our planet because the narrowing and destruction of their natural habitats, low birthrate. So pandas eagerly need human to protect and care them, create a more livable home, and help grow their numbers. You may not be a professional panda expert or your careers have nothing to do with panda, but you can also make your own contribution to Giant Panda conservation, which is to join in a exciting and rewarding Panda Volunteer Program with Giant Pandas in China(mostly in Sichuan Province)
Where to Join in a Panda Volunteer Program - Dujiangyan Panda Base and Wolong Panda Base
Currently only the China Conservation and Research Center for the Giant Pandas (CCRCGP) is authorized to arrange Panda Volunteer Program in the world. This organization has three branch bases - Wolong Panda Base, Bifengxia Panda Base and Dujiangyan Panda Base. And only the bases in Dujiangyan and Wolong are available for volunteering for public. The volunteer program at Bifengxia has been temporarily suspended due to construction at the base. The most famous and busiest Chengdu Panda Base(Chengdu Reseach Base of Giant Panda Breeding) doesn't offer volunteer program, but in this base, you have chance to see a large number of pandas in different ages. Their highlight of course is the large families of lovely and energetic panda cubs.
Volunteer at Dujiangyan Panda Base
Dujiangyan Panda Base is located in Qingchengshan Town, about 50km from Chengdu. The base is the only organization or base in the world which was specially established for rescue and disease control of giant pandas. Covering about 506,667 square meters including 12,542 square meters of building, the Dujiangyan Panda Base consists of six functional zones: rescue and quarantine, disease control and research, rehabilitation, training and feeding, reception and education, natural vegetation and service.
How to get to Dujiangyan Panda Base
- Driving. It only takes about 1 hour to reach the panda base. The road is maintained very well, and directly leads to the gate of panda base. But you still have to depart early in the morning to avoid the traffic jam.
- High Speed Train. There are usually 10 trains departing from Chengdu North Railway Station to Qingchengshan Railway Station from early morning around 7 AM to 9 PM. The train only takes about 40 minutes to get to Qingchengshan. From the railway station, travelers can take public bus or taxi to the panda base, which is only a short driving distance.
Requirements for Panda Volunteer Program
Documents: several documents you need for the program including a valid Chinese Visa, a valid passport, a medical form filled out by your doctor prior to arriving.
Age Restriction: between 12 and 65
Fee: 700 RMB paid by cash (as donation to panda base)
Brief Process of Panda Volunteer Program
1.Pay the program fee and then sign a contract with the Base, then you will get a volunteering tag and working suit and gloves.
2.A English-speaking staff in the base will lead you to take a minibus to one of the panda enclosure in the base.
3.Works in the morning includes: A. Clean the panda houses and gardens, then collect fresh bamboo for pandas from 09:00 to 10:00; B. Feed panda with cakes, apples, carrot, etc between 11:00 to 11:30.
4.Have lunch in the mess hall with staffs in the base.
5.Watch documentary films about panda rescue, and visit the Panda Museum.
6.Works in the afternoon includes: A. Clean the panda enclosure and feed panda between 14:00 ~ 15:00; B. Make panda cakes from 15:15 to 15:45; C. Feed panda at 16:00 again.
7.Work done, and the get the Panda Volunteer Certificate from the Base.

Panda Volunteer Program
How to spend free time in the Panda Base
- Visit adorable pandas from one enclosure to another, watch them eating, playing and sleeping. - Take some leisure walking around.
- Cuddle a panda(charging RMB 1,800 as donation to CCRCGP)
Volunteer at Wolong Shenshuping Panda Base
Wolong Shenshuping Panda Base is located in Gengda Town, about 102 kilometers from Tianfu Square, the central location of Chengdu. The raod condition to the panda base is very well. Usually, it takes about 1 and a half hour to reach the base from Chengdu. For those who want to go to Mount Siguniang, this panda base is a great place for stop and rest along the driving. Compared with Dujiangyan Panda Base, Wolong Shenshuping Panda Base has a wilder and larger habitat for pandas to live in, also a larger amount of pandas. It also has panda cubs, panda adults, also some old pandas.
For solo travelers, you can take buses to Wolong County or buses to Xiaojin, and take off the buses at Gengda Town. Walk about 15 minutes to the panda Base. The entrance for the panda base is 60 RMB. The cost for a Volunteering Program is 700 RMB (the same as Dujiangyan Panda Base).
Things Good to Know Before You Go
1. Reservation has to be made to the Panda Base for some days the Volunteering Program may not be available due to restriction on the number of the visitors; The program is also not open during Chinese Spring Festival.
2. We can make the reservation to the panda base for you, and we are always receiving the latest news from the panda base.
3. The cost for the Volunteering Program is the same no mater you are 12 years old or 65 years old.
4. The procedure or the activities of the program may be changed by the panda base due to force majeure.
5. Traveler who is catching a cold or flu is not allowed to do the volunteering program.
6. Putting perfume and wearing nail polish are not allowed.
Hand-Picked Valuable Giant Panda Tours
Chengdu Dujiangyan Highlights Tour with Panda Base Volunteering Work – 5 Days

Route: Chengdu - Dujiangyan - Chengdu
Chengdu Short Stay incluing Panda Visit - 1 Day

Route: Chengdu - Chengdu Panda Base
Dujiangyan Giant Panda Base Volunteering Work - 1 Day

Route: Chengdu - Dujiangyan - Chengdu