Chengdu Travel Guide
Chengdu, known as the 'Heavenly State', is the capital of Sichuan Province. It is located in the center of Cengdu Plain, west of Sichuan Basin. As the natural habitat of the Giant Pandas, Chengdu attracts thousands of travelers to come, to view the lovely creatures, as well as appreciate the famous delicious local snacks.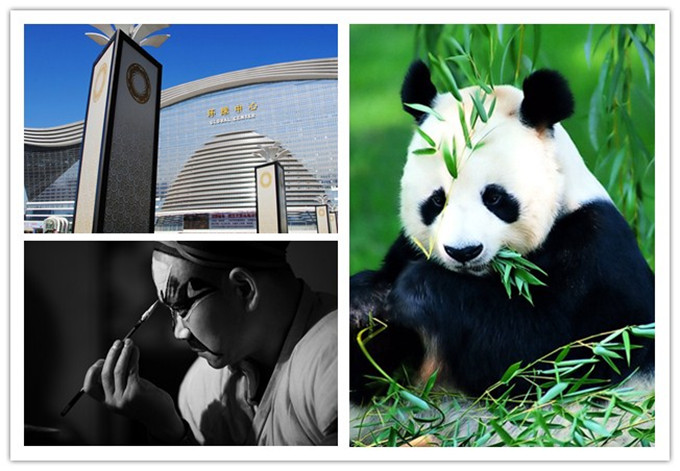 How to Get There
There is an international airport and three railway stations in Chengdu. Shuangliu International Airport is 16 km southwest to the center of Chengdu City, which is stationed with over 20 civil avaiations. It is connected with the urban district via expressway and a Chengmianle Passenger Line to Leshan City and Mount Emei.
It is also convenient to get to Chengdu by rail from other major cities of China, such as Beijing, Shanghai, Xi'an, Kunming, Chongqing, Lanzhou, etc.
East Railway Station, about 10 km from Tianfu Square, is the largest modern passenger transport hub in southwest China. It mainly operats the high speed traisn from/to Beijing, Shanghai, Guangzhou, Chongqing, Changsha, Nanning and Dazhou. It newly Chengmianle Passenger Line is also operated here.
Chengdu Railway Station( or North Railway Station) is the major passenger passenger train station of Chengdu for many years. It is the closest railway station to the city center.
Notice:
Once you choose to take train to Chengdu, please pay attention to which railway station you get off the train.
Things to Do in Chengdu
Chengdu has a long history, which can be traced back to 2300 thousand years ago. Sandingdui Museum and Jinsha Museum is the best place for you to discover the ancient life of people in this city. And for many cultural lovers, Wuhou Temple is an important site to get to learn the famouse three kingdom period history.
Once visiting Chengdu, you shall never miss the trip to the Panda Base, where you can closely see the cute pandas living their easy life. It is also the biggest Panda conservation centre in the world, which holds 90 pandas, as well as Red Pandas.
Renmin Park, as well as the Kuanzhai Alley nearby, is the best place to join in the local life. You can have a tea in a local teahouse, enjoying the leisure life pace of the locals.
Apart from that, Chengdu is also famous for its delicious Sichuan cuisine and local snacks. Spicy and hot are the key words for Sichuan cuisine, but you shall not be afraid of it. Just have a tast you will like it.
>>Check all things to do in Chengdu
Best Time to Go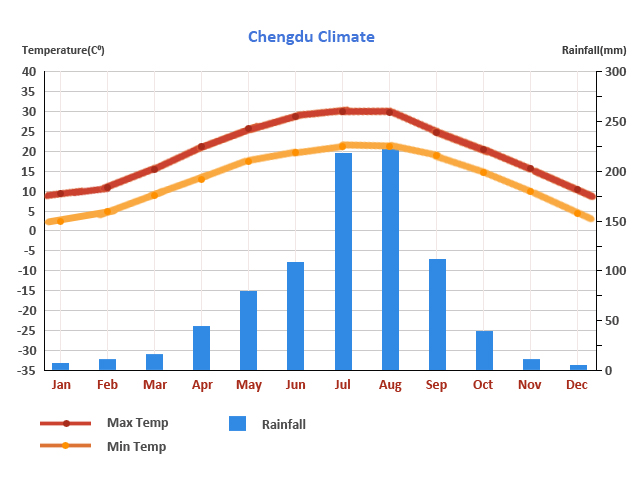 The best time to visit Chengdu city are from March to June, and September to November. The weather of Chengdu city can be summaried as an early spring, a hot summer, a cool autumn and a warm winter. Spring is from March to May, with frequent alternative temperature changes. July and August are the hottest months in this city, with the average temperature range from 22 °C (70 °F) and 30 °C (85 °F). Summer will least till September. From Octover to November, the Autumn is said to be one of the best times to visit Chengdu, with the fine weather and the golden rinko leaves in the whole city. It is hardly snow in winter, but most time is cold and grey with little rainfall.
Taste Chengdu Local Snacks
Apart from the excellent Sichuan dishes, you will find an incredible variety of snacks here (compared to the Spanish tapas), from various kinds of noodles to dumpling soup, and from fresh, cold "tapas"to those pen-fried in hot oil. Check Top Recommended Chengdu Snacks You Can't Miss Out
Hand-Picked Valuable Chengdu Tour Packages
Chengdu Short Stay including Panda Visit - 1 Day

Highlights: Giant Panda, Jilin Old Street...
Explore Sanxingdui Civilization Plus Panda Visit - 1 Day

Highlights: Giant Panda, Sanxingdui Museum
Panda Volunteering Plus Leshan Giant Buddha Visiting - 2 Days

Highlights: Panda Volunteering, Leshan Giant Buddha...