Ya'an Travel Guide
The city of Ya'an locates 120km southwest to Chengdu and close to the Tibetan area in western Sichuan Province. It was an important town on the ancient Tea Horse Road. As a place shared by both Chinese and Tibetans, Ya'an has not only a unique geological feature but also a history of the combination of Chinese and Tibetan people. Ya'an is a rainy place; it rains over 200 days in a year, which made it a perfect place for growing tea. Mount Mengding is one of the most significant tea places in China. It is also the hometown of the giant pandas; the first panda was found in a place in Ya'an. The three extremes of Ya'an are: the Rain is plenty in Ya'an, the Women are good-looking in Ya'an and the fish are delicious in Ya'an.
The known tourist attractions include Gaoying's Shrine from Han Dynasty, Baima Spring, Bifengxia Gorge and Panda Base, Mount Mengding, Yandao Ancient Town relics, Shangli Old Village, Niubeishan, Dadu River Gorge, etc.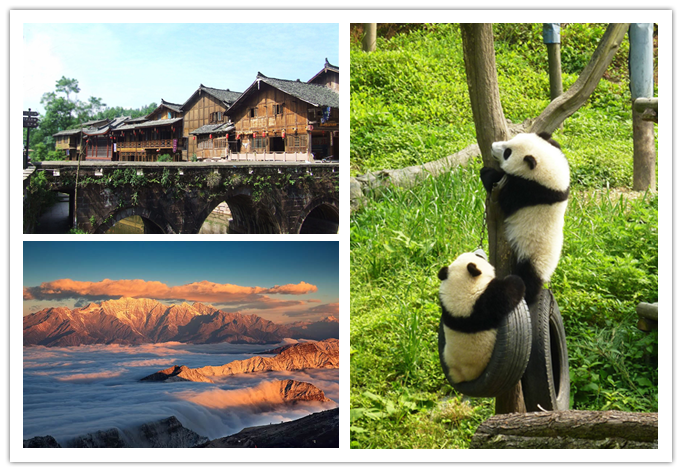 How to Get There
To get to Ya'an from Chengdu by car is at present the only way. One can use the buses at Xinnanmen Bus Station. From 7:30am to 7:30pm every 30 minutes there is a departure to Ya'an Bifengxia costs 44 yuan per ticket and takes about 2 hours.
What to see in Ya'an
Mount Mengdingshan
Mengdingshan is located in Ya'an and close to Bifengxia. It is home to Mengdingshan Green Tea. A drive takes 30 minutes from the town of Ya'an. At Mengdingshan, there is a tea museum providing knowledge of tea in China, tea terraces where tea farmers working during spring and well-preserved ancient tea trees.
Bifengxia
Bifengxia can be three different meanings. A, Bifengxia Gorge is a nature attraction. It is a small and lush gorge with a nice walking path. It is 13kms'long and shaped a big V. B, Bifengxia Wild Life Park is a place where wild animals are kept including lions, tigers, ostriches, alpacas, etc. C, in Bifengxia, there is a panda base as well. It is the head office of China Panda Preservation Center. It is a very important protection center for pandas as in and around Ya'an are natural habitats for giant pandas.
Shangli Old Village
Shangli Old Village is located 27km north to Ya'an and close to Bifengxia. Shangli was once one of the 10 major towns in Sichuan Province. It was first named Luosheng and was a main post used by caravans on the Southern Silk Road. It was also the head office of the Tea Officer in Tang Dynasty. Five big families have dwelled here for generations, so these five families are somehow the people of the town: Han, Yang, Chen, Xu and Zhang.
Sichuan Giant Panda Habitat
In terms of number and density of pandas living in the wild, Ya'an ranks the first in China. Its climate and landscape have provided perfect habitat for giant pandas. Ya'an has over 50% of the panda natural habitat in Sichuan. The first panda was found in 1869 in Baoxing, Ya'an. The Panda Habitat covers places in Baoxing, Tianquan, Lushan, Yingjing and Shimian in Ya'an. The Bifengxia Panda Preservation Center was founded in 2003 and some 20 pandas live there by present. In 2006, Ya'an got an official title of being "the hometown of Giant Pandas" and the date 12th July was honored as the Ya'an Giant Panda Habitat World Natural Heritage Protection Day.
Mount Niubeishan – Mount Yak Back Mountain
Mount Niubei is a 3600-meter mountain in Ya'an that lots of active travelers like to visit. It separates Qingyi River and Dadu River and provides very good views of Minya Konka.
Best Time to Visit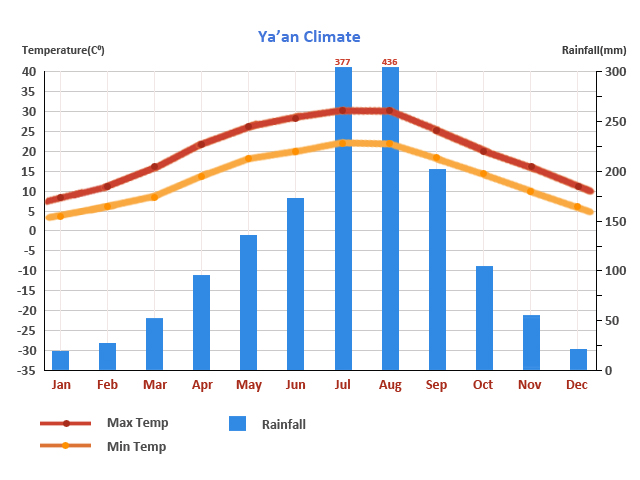 The best time to visit Ya'an is from July to October. But if you wish to visit Mengdingshan, it is better to do it in Spring time in April as it is the tea-picking season. In summer, it is very wet and lush, in autumn, Ya'an is also in green.
Recommended length of Stay: 2 days
Hand-Picked Valuable Sichuan Tours
Chengdu Jiuzhaigou HIghlights Tour - 5 Day

Route: Chengdu - Jiuzhaigou
Leshan Giant Buddha & Emeishan Mountain Tour - 5 Days

Route: Chengdu - Leshan - Emeishan - Chengdu
Mount Gonggashan In-depth Hiking – 9 Days

Route: Chengdu - Kangding - Gongga - Chengdu