Langzhong Travel Guide
Langzhong Ancient Town is one of the four greatest ancient towns in China. It is located at the northeast edge of Sichuan Basin and by the side of Jialingjiang River. It has a history of about 2300 years and was an important military town since Eastern Han Dynasty. It has fertile land and good climate. The traditional architectures in Langzhong are one of the best examples that featuring Fengshui in China. The layout of the city looks like a chess board and the constructions have a combination of both northern China and southern China. Langzhong is also the birthplace of Chinese New Year.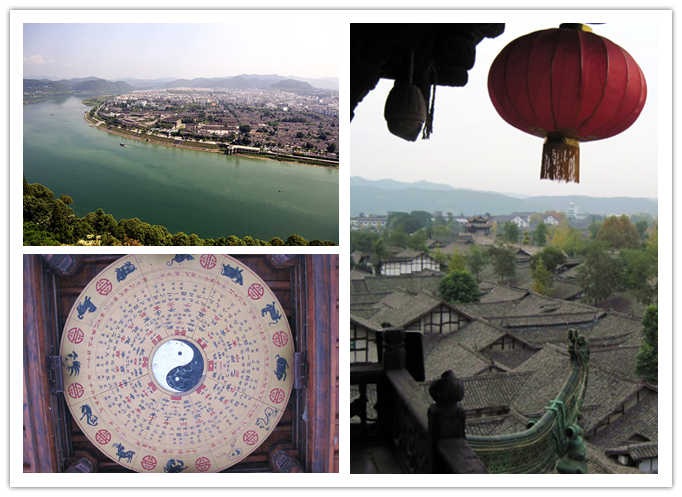 What to Expect in Langzhong Ancient City: Cultural Facts
Huaxia Origin
Langzhong is one of the origins of Han Chinese. As early as the Neolithic Times, humans lived here. The famous King Fuxi's mother was from Langzhong. Langzhong was among the areas of early Chinesecivilization.
People of Ba
Ba indicates today's Chongqing and eastern Sichuan Province. Langzhong was once a major city of Ba people until 316BC. The last capital of Kingdom of Ba was Langzhong. Many traditions of Ba survived through the changes of history. Ba Dancing (???), Northern Sichuan Lantern Drama (????) and Cow Light with Bamboo Horse (????) are among the traditions that still popular in Langzhong.
Fengshui / Wind and Water
Fengshui is the deep-faith belief of Chinese people. The old town of Langzhong was built according to a strict Fengshui system. The town is by the middle range of Jialingjiang, with Dabashan Range and Jianmenshan Range at its north. Two mountains and one river enclose Langzhong, hence: Water on three sides and mountains on all sides. Mountain provides wind and river provides water. The location has the four elements of traditional Chinese ideal of geology, which is a perfect combination of Dragon, Stone, Cave and Water.
Three Kingdoms
Three Kingdoms period was a time when China was split into three different states by the end of Eastern Han Dynasty. It is one of the most talked-about dynasties in Chinese history due to books been written and stories been told. Longzhong was under the rule of Kingdom of Shu. It was an important town by the border with the Kingdom of the strong Wei.
Keju – Traditional National Examination
Keju, the National Examination for selecting officers in traditional and present China, is a unique part of Chinese culture. Zhuangyuan is the examinee who gets the highest score in the final test. Langzhong boasts for its hometown of many Zhuangyuans including Yinshu, Yinji from Tang Dynasty, Chenyaosou, Chenyaozi from Song Dynasty. During the history, Sichuan was among the most productive place in China in terms of Zhuangyuan. There is a museum called Gongyuan, the examination hall, is located in Langzhong. Many Zhuangyuan, Jinshi (the second one in grade) in total 116 people and Juren (ranked the third in the test) in total 404 people took their tests in this Gongyuan. Langzhong is the hometown of Zhuangyuans in Sichuan.
Tradition of Astrology
Langzhong was once chosen as an astrology research center. Luoxiahong, the great astrologist in Western Han Dynasty, was from Langzhong. Taichuli, his work was the first full-recorded calendar in China. And his idea of the universe was introduced as the original Chinese idea of the universe, which lasted for about 2000 years. The Zhou family from Eastern Han Dynasty also contributed to the ancient Chinese astrology by viewing the stars from the pagodas they built in their houses and accumulated lots of useful data about astrology. They were also from Langzhong.
Religion
Langzhong had a variety of religions. Since Han Dynasty, Buddhism came and from Tang Dynasty, Islam came. And after worth came the Christianity. There are many religious buildings left in the old city including Shengdi Mosque, Baba Mosque, Tianzhu Church, Fuyin Church, Yuntai Taoist Temple, Lvzu Taoist Temple, Baxiandong Taoist Temple, and Buddhist monastery Dafo monastery, Guanyin Monastery, Yong'an Monastery, Wulong Monastery, Yuanjue Monastery, Qianfo Monastery, Changqing Monastery, Jingsheng Monastery.
Local Traditions
Flower Lantern Festival, Taiping Buffalo Lantern Festival, Paper-cutting craft, Chuanbei Shadow Puppet Play, Langzhong Tan Drama, etc.
Food/Seasoning
Baoning Vinegar is from Langzhong, it is one of the most popular vinegars we use in China. Among the delicious and interesting food it has, there are Steamed Sugar Bread, Preserved Eggs, Pickle with Tofu Noodle, Guokui, Beef Noodle, Goat and Cow Intestine Noodle, Chuanbei Rice Pudding, etc.
Communism
Langzhong was part of the communist zone during early 1930s. It was regarded as an important place in the "Proletariat Revolution". The major relics and museums include the 1933 Chinese communist party office site, Baoning Red Army monument and Langzhong Red Army Memorial Hall.
How to Get to Langzhong
Langzhong is located in northeast Sichuan Province. It is 80 km to Nanchong and 2.5 hours away from Chengdu. From Nanchong, one can by a 40-yuan ticket from 8:00 to 18:00 to drive to Langzhong at Nanchong Chengbei Bus Station. From Chengdu there are direct buses from Chengbei Bus Station to Langzhong everyday. Scheduled buses from 08:30 to 15:30 depart every hour. Bus ticket cost about 100 and the ride is about 3.5 hours.
Public transfer in Langzhong
Bus route No.1 and No.2 are very convenient in Langzhong. The route covers Tengwangge, Dafo Monastery, Kuixinglou and Jinpingshan Park. Bus costs less than 2 yuan. By using taxi is also a good option. Taxi starts by 4 yuan and every other km ofter 2km charges 1.2 yuan. And you can rent the taxi and negotiate for price.
What to see in Langzhong
Old Street and Alleys
Walking in the big and small old streets of Langzhong can easily get lost. Everywhere in this old town provides excellent photo background. Langzhong is exquisite. Water, mountain, city walls make a perfect combination of an ideal city in traditional China for 2300 years. Langzhong was considered a very important town since Warring States. Every dynasty had assigned trusted person to guard Langzhong. Its splendid outline and the major buildings are a result of the significance of its geological location. The city of Langzhong had been refurnished by generations of the best builders of China. The main remains of its constructions are from Tang, Song and Ming Dynasty. There are at present, in total 61 old streets reserved the way it was laid. And over 1000 resident houses cover an area of 21000 sqm in the old town. The names of the streets are also very interesting. Some streets were named after trees, people's names, names of important business organizations and some are named after the symbols of Fengshui.
The old house/courtyard in Langzhong are defined of a combined feature of both north and south China styles due to its geological location. They are believed to be the essence that made this old city so unique. Every courtyard was named as Ma Family Yard, or Pu Family Yard or Zhang Family Yard. Bamboos and old bonsais separate the many well-designed yards and exquisitely-constructed architectures. There are gardens, pavilions, caged birds, domesticated golden fish; stone tablet-fenced flower beds and dragon figured wooden pillars in all these ancient houses. It is a museum of Chinese residential houses.
Zhangfei Temple
Zhangfei Temple is also called Han Huanhou Shrine. It is a memorial temple in regard of General Zhangfei from Shu of Three Kingdom. It is one of the major "Three Kingdom Culture Travel" tourist attractions in China. This temple has a history of 1700 years. It was built not long after his death. It is located in the old city. Zhang is one of the five Tiger Generals of Shu Kingdom and one of the oathed brothers of King of Shu, Liubei. Zhangfei was a brave and loyal figure known by every Chinese. Buddhist Towers of Tang Dynasty
Yong'an Monastery
It is a Buddhist monastery built in Tang Dynasty and it is located 40 km away from the town of Langzhong. The present complex was from Ming and Qing Dynasty
Imperial Examination Hall (Gong Yuan)
The Imperial Examination Hall of Langzhong, is also named Kaopeng in Langzhong, the ancient city that flourished in ancient days. Gong Yuan is where the young people taken official examinations in ancient times. Gong means a tribute to the king of this country, only the tribute here is talented people who got the higher grades in the examination. This has always been the method to selected capable people to work for the king. Yuan means a courtyard. The earliest Gong Yuan was founded in Tang Dynasty according to the historians. There is no definite recording of the time the Gong Yuan was built. But according to the "Baoning Fuji" (the book that recording Langzhong History in Ming Dynasty), there was a complex of construction named Minglun Tang, in which 40 rooms were used as examination rooms. And in Qing Dynasty, Li Xuejin, an officer in northern Sichuan, rebuilt this Examination Hall. This complex was built in a traditional Chinese style. Examinees taken the examination in the cubics in the front yard and the two stories rooms at back were used as bedrooms. It had strict rules in here. Every examinee had to be frisked and any one who intended to cheat in the examination would be punished severely. In every cubic there was a basin of charcoal fire to keep it warm, a candle to make light. And the cubic would be locked during examination. The examinees start their paper work after the bell. Every building lies in a regular order and every the cubics are numbered in a accordance with the celestial sequence based on Chinese belief: Tiandixuanhuang.The main hall is used by the examiners to call the roll, distribute papers and invigilate the examinees. Langzhong had almost the same status as Chengdu in terms of education in ancient times. It is one of the earliest places that had government-sponsored education (the imperial examinations) in China. And many people were selected by the government.
Huaguang Pagoda
Huaguang Pagoda also called South Pagoda or Zhenjiang Pagoda, was built in Tang Dynasty and had been destroyed many time andrefurnished many times after worth. The present pagoda was the last version refurnished in Qing Dynasty in 1867. It is one of the tallest buildings in the old town of Langzhong with a total height of 36 meters. This 3-story wooden construction was erected on a 5-meter platform. People from local usually say this pagoda as "the tallest building in the town with good views of the river and the city".
Tengwangge – the Tengwang Pavilion
Tengwang Pavilion is considered the No.1 sight at Jialing River. It is located at Yutaishan north to the town of Langzhong. It shares the same name of the other Tengwang Pavilion in Nanchang. Both pavilions were built by Tengwang, the 22nd child of Liyuan, the first emperor of Tang Dynasty. By the pavilion there is sitting Buddha statue that is 8-meter tall.
Jinpingshan
It is a park located wouth to the old city of Langzhong. It is a cultural museum. It was made paintings by the famous painter Wudaozi and it was made poem by Dufu from Tang Dynasty. Inside this park, there is agate temple, Dufu's shrine, Jinping Library from Tang Dynasty and Lvzu Temple, Guanyin Hall, Wuhou Temple from Ming Dynasty.
Baba Mosque
It is a muslin temple. It is located northeast to Langzhong old city. Baba resembles the pronunciation of Ala in Islam. It was built 300 years ago during Kangxi Time. It is a beautiful Islam complex that composed of Gate, Screen, Temple, Flower house and gardens. It is also a pilgrimage destination for muslins from other places include those who are from Gansu, Shanxi Province.
Dongshan Garden
In this garden a Buddha Statue from Tang Dynasty boasts to be one of the 10 biggest Buddha Statues in Sichuan Province. It is seated in the Dafo Temple. The statue is a 10-meter Metreya Buddha. Outside of the statue are three layers of fences and behind the statue there are 4700 small statues.
Former Residence of Luoxiahong
The Chinese Santa Clause Luoxiahong is believed to be the Claus of Chinese New Year. Luoxiahong was a outstanding astrologist in ancient China.
Laoguan Old Village
Laoguan Old Village is located 45km northeast to Langzhong. It is a very well-preserved old village in Sichuan. It has total 48 old constructions in the village and a history of over hundreds years. It is the actual origin of Chinese New Year and the origin of Lantern Festival.
Best Time to Visit
The best time to visit Langzhong is from April to June every year. It is the best time in terms of weather. Fall is also considered a good time to travel to Langzhong.
Recommended length of visiting: 2~3 days
Hand-Picked Valuable Sichuan Tours
Chengdu Jiuzhaigou HIghlights Tour - 5 Day

Route: Chengdu - Jiuzhaigou
Leshan Giant Buddha & Emeishan Mountain Tour - 5 Days

Route: Chengdu - Leshan - Emeishan - Chengdu
Mount Gonggashan In-depth Hiking – 9 Days

Route: Chengdu - Kangding - Gongga - Chengdu