Langmu Monastery Travel Guide
Langmu Monastery is the name of a place. Langmusi is the Chinese name of Langmu Monastery. It shares the name of this town. Generally Lanhmusi indicates Langmusi Town in Gansu and Langmusi cun in Sichuan. It is a group of monasteries built at the border of Sichuan and Gansu Province. Langmu Monastery is the short name of Dacang Langmu Geerdi Monastery. The monastery in Sichuan is a Gelugpa monastery in Tibetan Buddhism. The monastery in Gansu is called Saici Monastery. Both monasteries locate in the Langmu Valley on different sides of the valley.At Langmusi, an amazing fact is that there are lots of Muslins while this place is known as a Tibetan place. Plenty of guesthouse and local hotels stand on both sides' of the narrow street of Langmusi. You can find Tibetan food, Muslin food, Chinese food and even Western food here at Langmusi.
How to Get There
To drive to Langmusi is by far the only way to get there. And the quickest way to travel to Langmusi is from Lanzhou, which is a big city 400km north to Langmusi. Using public transport, you can get to Hezuo first and from Hezuo, spend 50 yuan on the bus everydayat Hezuo Bus Station at 6:30, 7:20 and 12:00 each day. From Xiahe, you can also use public bus. At 6:40 and 7:40 there you catch the bus speding about 70 yuan to Langmusi. But if you want to get to Langmusi from Lanzhou directly, you need to transfer to Diebu first from Lanzhou and catch a bus from Diebu to Langmusi.
What to see at Langmusi
Langmu Monastery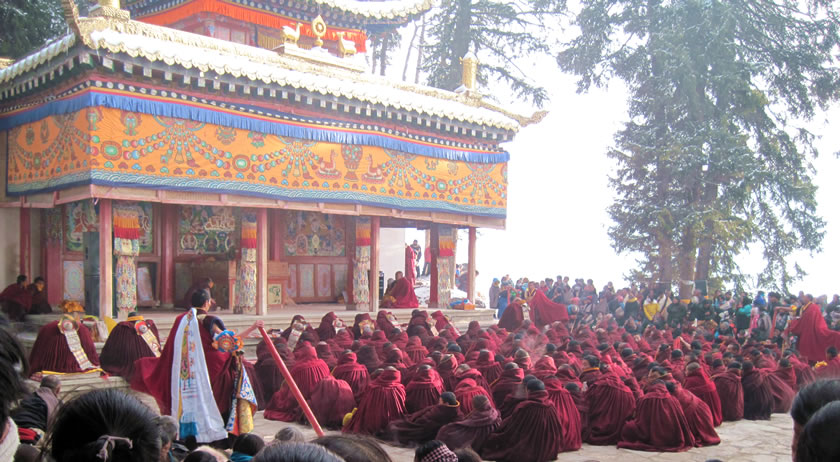 Langmu Monastery is also called Geerdi Monastery in Sichuan. The highlight of this monastery is the real body of the 5th Geerdeng Renpoche. The monastery display this Renpoche every 3 or 5 days so not very visitor can see this what local people believed to be a miracle. Langmu Monastery has a history of over 600 years. Visiting these complex takes about 2 hours.
Bailongjiang Valley (White Dragon Valley)
White Dragon Valley is by the end of Geerdi Monastery. Riding horse or hiking are the best ways to visit this place. The beautiful views in this valley include the strange rocky walls, and caves called Tiger Cave and Fairy Cave, where believed to be meditation sites for former Buddhist masters. If you reach the top of the mountain, you can have a full view of Langmusi.
Gandan Saici Monastery
Saici Monastery is part of Langmusi and it is located by the Gansu side. The constructions of Saici Monastery are splendid. On every top of the temples, there is gold-copped top. Behind Saici Monastery there is a sky burial site when dead people are chopped after the Tibetan funeral. Walk for 40 minutes you can reach the site but there may be a funeral only when someone dies.
Buddha Thangkha Display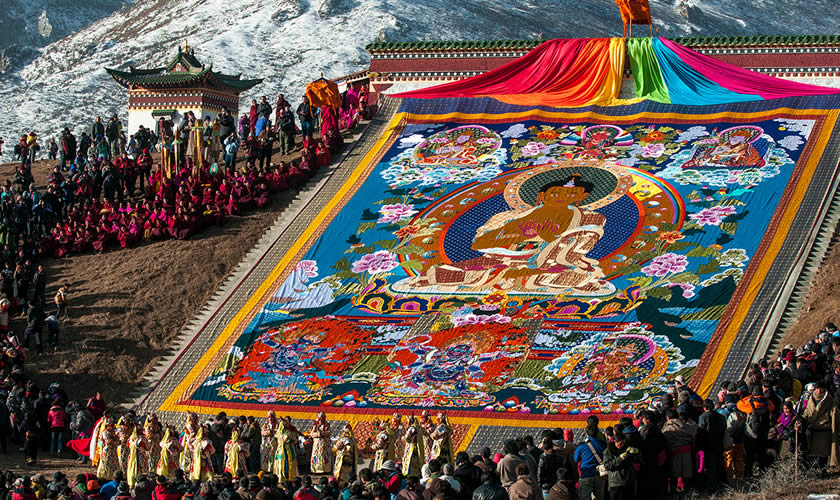 Thankha Display or To Respect Buddha, is called Guigexian in Tibetan. It means to display the Buddha picture on a silk-made cloth usually huge cloth. The purpose of displaying the Buddha is to show the greatness of the meaning of Buddhism by the Buddhists. Normally the many Buddhist will come together for this event held on each 13rd of the first month in Tibetan Lunar Calender. This event starts every year on this day by 9:00, the monks will slowly scroll a huge Thankha of Buddha on a specially-made display slope. The size of the Thankha is about 4 meters' wide and 12 meters' long. During and after the display, the monks will pray and chant together to pray for good things for the world. The history and spiritual part of Langmusi is more significant. Tibetans are religious people so there are lots of rules they follow on a daily base, including when you are watching a sky funeral, the visitors respect to local culture is a good way to protect local culture.
Best Time to Go
The best time to visit Langmu Monastery is from May to September, and during the Tibetan New Year. Spring is the blooming season. Summer is warm and comfortable. Winter is cold but there are lots of Buddhist celebrations in the winter.
Recommended length of visiting: 1 - 2 days
Hand-Picked Valuable Sichuan Tours
Chengdu Jiuzhaigou HIghlights Tour - 5 Day

Route: Chengdu - Jiuzhaigou
Leshan Giant Buddha & Emeishan Mountain Tour - 5 Days

Route: Chengdu - Leshan - Emeishan - Chengdu
Mount Gonggashan In-depth Hiking – 9 Days

Route: Chengdu - Kangding - Gongga - Chengdu