Hongyuan Travel Guide
Hongyuan is located in northwest of Sichuan Province. Hongyuan is the hometown of yaks, and it is famed by its beautiful flower views of its vast prier. It was named after the Red Spirit by Zhouenlai in 1960 in memory of the Long March by the red army in the 1930s. It has a population of about 50 thousand and over 80% of it is Tibetan People. It is one of the Tibetan towns in western Sichuan and has an elevation of about 3500 meters above sea level.
How to Get There
The town of Hongyuan is located 450km north to Chengdu. Hongyuan can be used as a stopover place for a ground trip from Chengdu to Jiuzhaigou. At Chadianzi Bus Station, you can take the daily scheduled bus from Chengdu at 7:00 am each day. The bus ticket costs about 150 yuan and it takes about 7 hours.
There is a new airport in Hongyuan opened in 2015 and it has a scheduled flight CA4219 everyday from June to October from Chengdu by 6:50 am and arrives at 7:50. Flight 4220 departs Hongyuan at 8:30 and arrives in Chengdu by 9:30. If traveling before June or after October, there are two flights each week between Chengdu and Hongyuan.
However there is another flight run by Sichuan Airlines, which is between Chongqing and Hongyuan. It schedules two flights on Friday and Monday each week. It departs from Chongqing at 6:00 and arrives at 7:05 and departs Hongyuan by 7:40 and arrives in Chongqing by 8:45. Flight number 3U8119/20.
What to see in Hongyuan
Ruoergai Grassland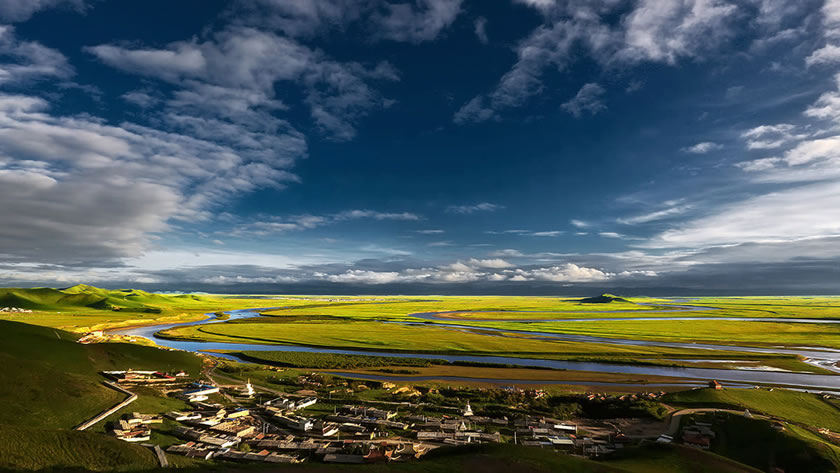 Ruoergai Grassland is located in both Ruoergai and Hongyuan. It is the biggest grassland in SichuanProvince. It is consisted of grassland and marshes and it is one of the three main wetlands in China. It is one of the flat landscapes in Sichuan. Ruoergai Grassland is also the place where the red army walked during the Long March. Ruoergai Grassland is also called the oasis of northwestern Sichuan". Ruoergai Grassland is home to nomads Tibetans. Prayer flags, monasteries and nomads villages are the unique symbols here.
Moon Bay (Yueliangwan)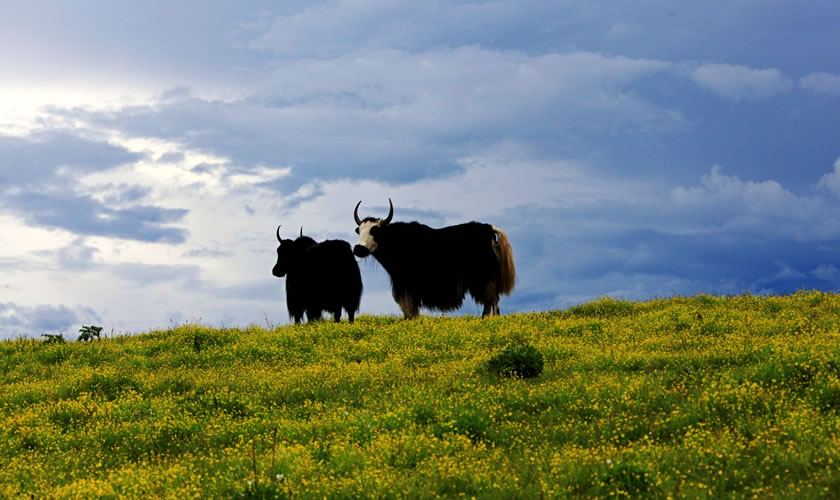 Yueliangwan is the highlight of Hongyuan Grassland. It is located 3 km outside of the town of Hongyuan. The name Yueliang means moon, stemmed from the bending resembling close to a Crescent. A lot of great photos of Hongyuan were taken here.
Waqie Stupas
Waqie is the name of the stupa towers, it means Big Tent. Waqie has a stupa in memory of the 10th Banchan Renphche. These stupas are surrounded by a lot of prayer flags. Waqie is located 60km south to the first bend of Yellow River and 40km north to the town of Hongyuan.
Best Time to Go
The best time to visit Hongyuan is from May to October. Spring and early summer are the blooming season therefore a lot of travelers came here by May and June. The coldest time in Hongyuan is from December to the next March with an average temperature of between -5? to -10?. Summer is from late June to August with an average temperature at about 14C.
Recommended length of visiting: 2 - 3 days
Hand-Picked Valuable Sichuan Tours
Chengdu Jiuzhaigou HIghlights Tour - 5 Day

Route: Chengdu - Jiuzhaigou
Leshan Giant Buddha & Emeishan Mountain Tour - 5 Days

Route: Chengdu - Leshan - Emeishan - Chengdu
Mount Gonggashan In-depth Hiking – 9 Days

Route: Chengdu - Kangding - Gongga - Chengdu