Volunteer at Shenshuping Panda Base in Wolong Panda Reserve
updated on April 6, 2017
Let's together make a real impact in saving endangered Giant Pandas!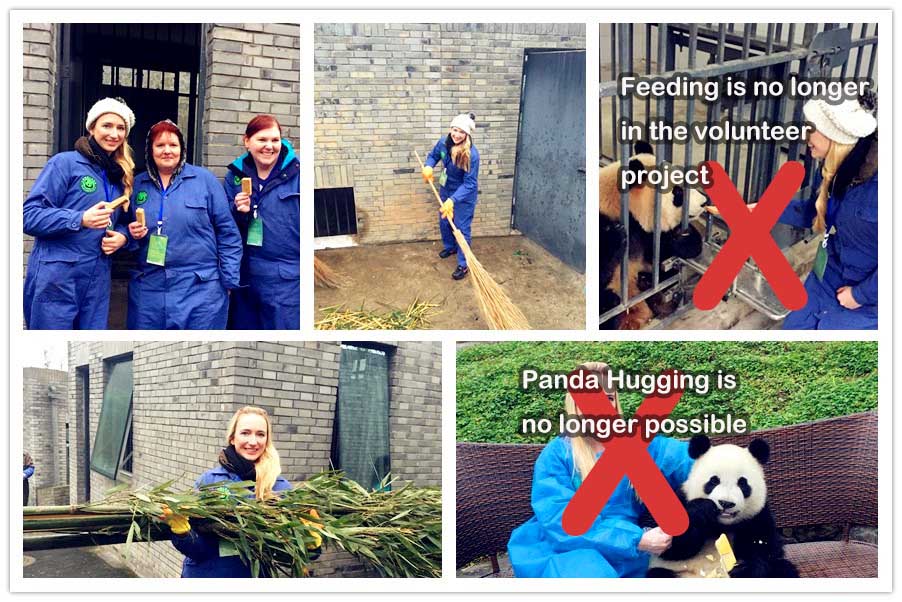 Do Something Helpful to Protect Giant Panda
Giant Pandas are always adorable. But you may also know Giant Panda is a endangering species. The natural habitats of Giant Panda has been declined sharply during the past decades because of human activities. So it is urgent to protect the safety of Giant Pandas, protect and enlarge the habitats of Giant Pandas. Not only the scientists or the biologist can do something to help the Giant Panda, everyone can make his/her own contribution to the Giant Panda conservation. The best and resultful way is to join in a Giant Panda Volunteering Program. And currently, you can join the program at Wolong Shenshuping Panda Base, Dujiangyan Panda Base and Bifengxia Panda Base, all as branches of the China Conservation and Research Center for the Giant Pandas (CCRCGP).
The Detailed Process of Volunteering Program in Shenshuping Panda Base
| Hours | Activities |
| --- | --- |
| 08:45~9:00 | You will get to the Shenshuping Panda Base, and sighn the satety and volunteering contract. Then get the Panda Keeper permit, uniform, gloves. The volunteering program is about to begin soon! |
| 09:00~10:20 | You will take a park bus to a panda enclosure to clean the residues of bamboos and panda faeces in the panda yards and appartments, and flush the floor. Also learn to observe the living environment and life condition of Giant Pandas. |
| 10:20~11:00 | You will be guided by a English-speaking guide in the base to visit panda enclosures of both adult and cub pandas, also learn some scientific knowledge about Giant Panda. |
| 11:00~11:30 | You will feed the panda cakes, fruits (like apple), vegetable (like carrot and bamboo shoots). Your guide will also introduce the dinning habit of Giant Panda to you. |
| 11:40~12:30 | You will have lunch with the panda keepers and other staffs in the panda base in the refectory in the panda base. |
| 12:30~13:00 | It is free for you to take a short rest or just go to have a walk around. |
| 13:00~14:00 | You will watch several interesting documentary films about Giant Panda's Rewild Training and Giant Pandas Harmonious Relationship with Human. |
| 14:00~14:40 | You will feed the panda cakes, fruits (like apple), vegetable (like carrot and bamboo shoots) again. |
| 14:50~15:10 | You will learn to become a Giant Panda Nutritionist. A experienced staff will teach you how to make cakes for pandas. |
| 15:20 | You will return the Volunteering Permit, uniform and gloves to the panda base, and then receive the Panda Keeper Hornorable Certificate and gifts from the panda base. The volunteering ends. |
What Is Required for the Panda Volunteering at Shenshuping Panda Base
Documents: several documents you need for the program including a valid Chinese Visa, a valid passport, a medical form filled out by your doctor prior to arriving.
Age Restriction: between 12 and 65
Fee: 700 RMB paid by cash (as donation to panda base)
How to Get to Wolong Shenshuping Panda Base
It only takes about 1 hour to reach the panda base. The road is maintained very well, and directly leads to the gate of panda base. But you still have to depart early in the morning to avoid the traffic jam.
Hand-Picked Valuable Giant Panda Tours
Chengdu Dujiangyan Highlights Tour with Panda Base Volunteering Work – 5 Days

Route: Chengdu - Dujiangyan - Chengdu
Chengdu Short Stay incluing Panda Visit - 1 Day

Route: Chengdu - Chengdu Panda Base
Dujiangyan Giant Panda Base Volunteering Work - 1 Day

Route: Chengdu - Dujiangyan - Chengdu