Giant Panda Channel - Sichuan Giant Panda Sanctuaries & Panda Travel
Giant Pandas, the lovely black and white creatures, only live in a few mountain ranges in Sichuan province, Shaanxi province and Gansu province of China. The rare chance to see the cute pandas is to visit panda bases. There are three panda bases opened to visitors in Sichuan, which offer you the chance to get close to pandas, even do a volunteer job with Chinese staff. No matter you just have a day to see the pandas or want a long time panda volunteer job, you can find one in Chengdu. Check our best selling Panda tour packages or watch best collection of Giant Panda videos
Latest News about Giant Panda
Latest Panda Volunteer News: Recently, the canine distemper epidemic happened to pandas. For the sake of giant pandas, the Panda Bases in Chengdu and Bifengxia closed the volunteer programs since Jan.06, 2015. If you want to experience the panda volunteer life and even hold a giant panda, you could head to Dujiangyan Panda Base instead. More details>>
- A Female Panda Infant Born in Zoo Aquarium de Madrid in Spain / updated on September 1, 2016
- A Wild Giant Panda Bursted into Village in Sichuan Province / updated on May 19, 2016
- Taipei Zoo: Pandas Presented by Mainland China Are Happy and Healthy / updated on May 16, 2016
- Ai Bao and Le Bao Made Their First Public Show in Korea / updated on April 25, 2016
- The First Panda Cub of 2016 Born in Chengdu Panda Base / updated on May 7, 2016
- Giant Panda Super Star Tai Shan Mated Naturally in Bifengxia Panda Base / updated on April 20, 2016
- Visit Panda in Korean - New Home of Le Bao and Ai Bao / updated on April 16, 2016
- Loneliest Panda in the World Ever / updated on April 12, 2016
- Giant Panda Mating in Bifengxia Panda Base / updated on April 5, 2016
- Si Yi and Xiao Qiao Left Chengdu for Luoyang / updated on March 22, 2016
- Twin Baby Pandas in Canada Named Officially / updated on March 8, 2016
- A Wild Giant Panda Was Run after by Dogs in Sichuan Village / updated on March 7, 2016
- Latest News about Re-wild Giant Panda - Hua Jiao / updated on March 1, 2016
- Two Naughty Giant Pandas "Escaped" from Base in Bifengxia Panda Base / updated on February 28, 2016
- Panda news - Kung Fu Panda back to his hometown Chengdu / updated on February 23, 2016
Chengdu Panda Breeding and Research Center
Opened in 1993, Chengdu Research Base of Giant Panda Breeding ( or Chengdu Panda Base) is located about 10 km north of the downtown. It is known as the best tourist destination to get close to the rare giant pandas. Here you can closely see the pandas of different ages resting, eating and playing with each other. Another highlight of a visit to the panda base is that you can watch the baby pandas through glass in their playpens at the breeding center. Learn more about Chengdu Panda Base
The best time to visit the panda base is before 9 o'clock in the morning, for the pandas at that time will be most active. Then what is the best time to visit Chengdu Panda Base in a year?
Open Time
8:00 a.m. to 5:30 p.m., all year round.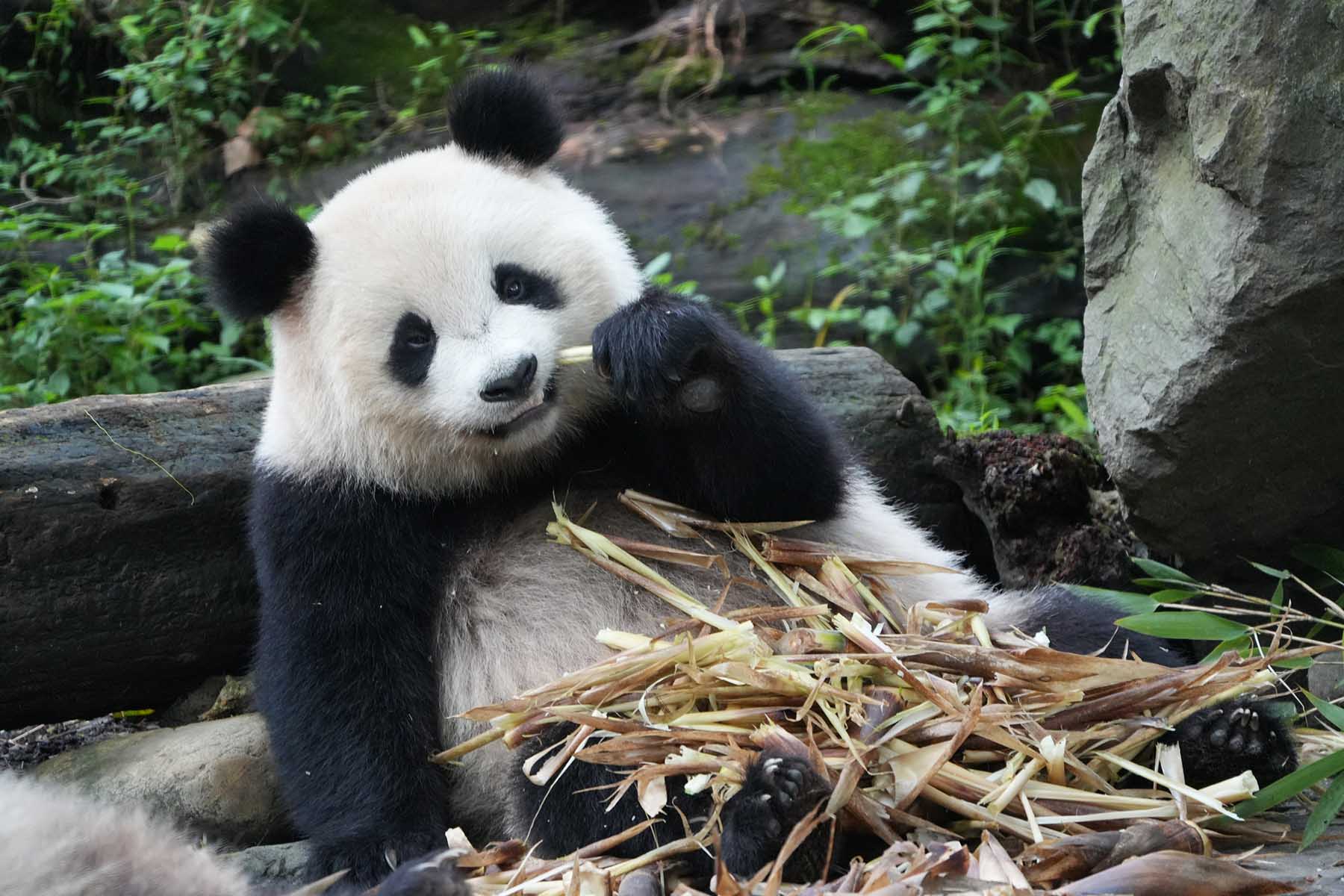 Bifengxia Panda Reserve
Located in Bifengxia Scenic Area, Bifengxia Panda Reserve is 150 km from Chengdu city. There are over 50 giant pandas. The panda reserve offers volunteer programs for panda-lovers, during which you can follow the panda keepers to carry and handle food for the pandas, clean up the pandas 'enclosure, get rare chance to feed them, observe their daily life, etc. And at the end of the program, volunteers will get the certificate.
Open Time
Summer: 08:30 – 11:30 am, 13:30 – 16:30 pm
Winter: 09:00 – 11:30 am, 13:30 – 16:00 pm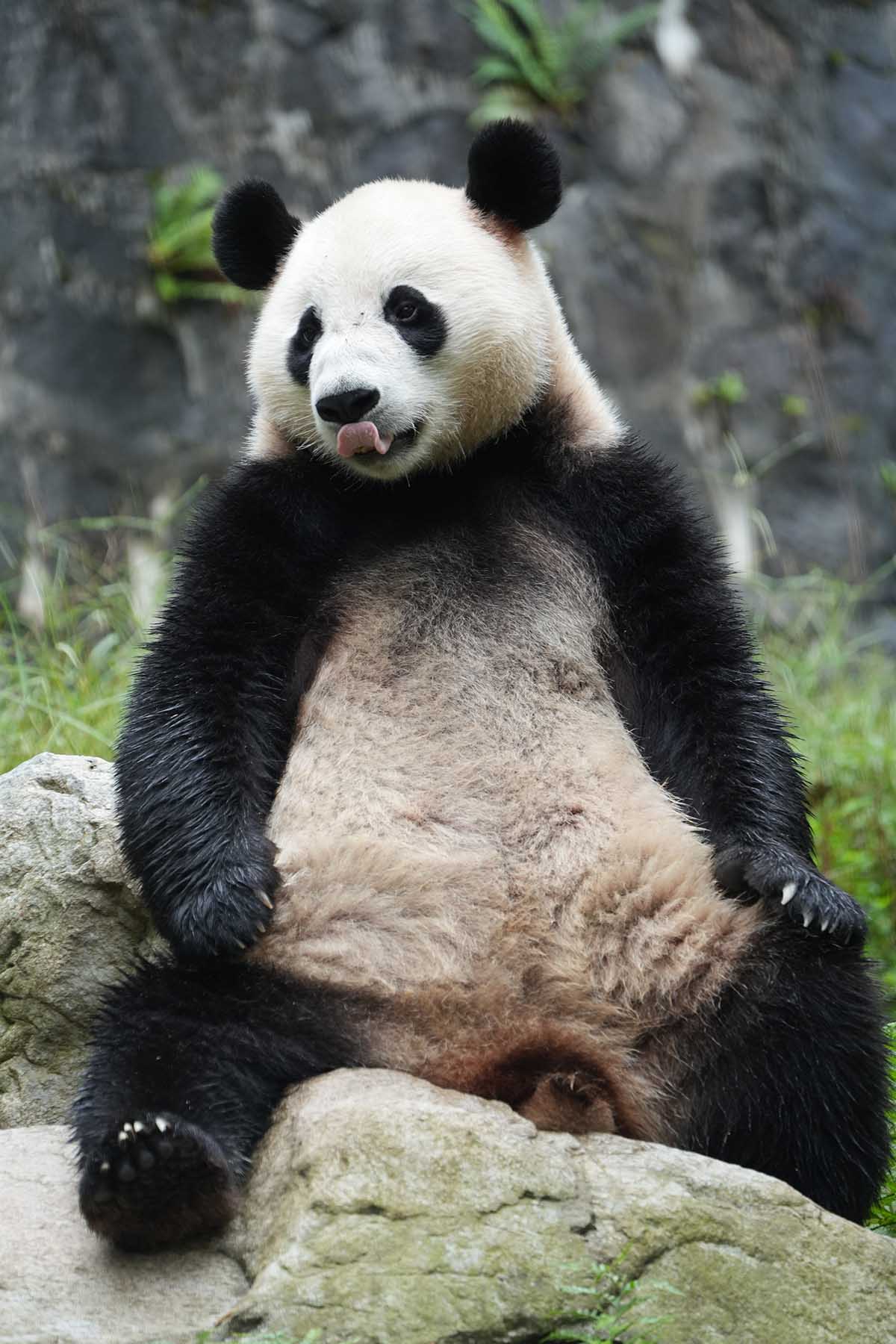 Dujiangyan Panda Park
The newly-built panda base is located near Dujiangyan city, with 65km away from Chengdu downtown. This rescue and disease control center of Giant Panda includes rescue zone, isolation zone, healing zone, educational zone, scenic zone and so on. Among them, there are three zones, the healing zone, educational zone, and scenic zone, open to public to popularize the knowledge and offers you a life-time panda volunteer experience with by cleaning their enclosures, preparing meals and feeding them.
There are 30 pandas living in the panda base. The Panda Base offers the one-day volunteer program for tourist.
Program Length: One day (8:00 a.m. to 5 p.m.)
Requirements: Being a volunteer, your age should be within 12 to 65, and you should apply for the program a week in advance with your Application Form and Health Examination Form.`
Get Certificate: After you finish your volunteer work, you will receive your certificate and souvenirs, issued by the public education service center.
Lean more information about Panda Volunteer Work in Dunjiang Panda Park.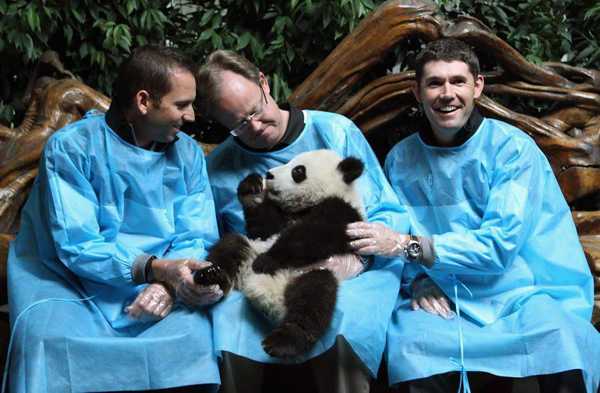 You may also want to cuddle the cute Giant Panda? So where should you go for the panda cuddling? So far, the Dujiangyan Panda Base is the only base or zoo in China that allows you to cuddle the panda. >Details here
Dujiangyan Panda Valley
Panda Valley is located in the town of Yutang, DujiangyanCity, Sichuan Province, in the front mountain of the Qionglai Mountains. It is 50 kilometers west from Chengdu and 5 kilometers away from the downtown Dujiangyan.
Still in the first phase of development, Panda Valley boasts three enclosures for giant panda wild training and one for semi-wild training. More than 10 giant pandas have undergone adaptive training for reintroduction into the wild at the facility. Future plans for Panda Valley include designs for a giant panda habitat covering an area of 5 square km. The space is set to incorporate a giant panda breeding and husbandry area, a semi-wild training area, a wild training transitory experimental area, a reintroduction experimental area companion animal area, a multi-functional conservation education center and an experience village for juvenile ecology education. The Panda Valley will allow visitors to observe the panda training program up close. learn more
Don't know which Panda Base Should you visit? learn more >>
Hand-Picked Valuable Giant Panda Tours
Chengdu Dujiangyan Highlights Tour with Panda Base Volunteering Work – 5 Days

Route: Chengdu - Dujiangyan - Chengdu
Chengdu Short Stay incluing Panda Visit - 1 Day

Route: Chengdu - Chengdu Panda Base
Dujiangyan Giant Panda Base Volunteering Work - 1 Day

Route: Chengdu - Dujiangyan - Chengdu