Dege Travel Guide
Dege is one of the towns I Ganzi Tibetan Prefecture in Sichuan. It is located about 900km away from the capital city Chengdu by the northwest of Sichuan Province. Its elevation is 3200 meters and it has many mountains that are over 5000 meters' high. In Dege, there are many beautiful places worth vis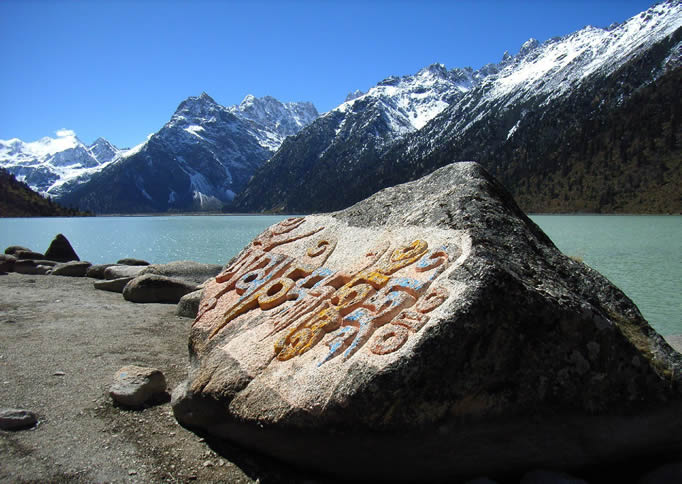 How to Get There
By bus it needs two days to get to Dege from Chengdu with an overnight stay in between. There is no direct bus from Chengdu to Dege. You will need to use a bus from Chendgu to Kangding and then get on another bus from Kangding. From Kangding you have two options, one is to take the only one in a day direct bus from Kangding to Dege which departs by 7:00 in the morning and rides over 10 hours. The second way is to take a bus from Kangding to Ganzixian, which they have 4 scheduled buses each day departing time from 6:15 in the morning and takes about 7 hours. Please see Kangding Bus Schedules.
What to see in Dege
Dege is the cultural center of Kham Tibet. It boasts for "the Origin of Kham" and "Hometown of King Gesar". Dege Parkhang is the shrine of Tibetan Culture. The Dege Parkhang is also called Dege Scripture Printing Lamasery. It is the biggest printing school in the whole Tibet. Dege is also the origin of South School of Tibetan Medicine. In Dege, five different schools of Tibetan Buddhist Monasteries can be found here. Other natural beauties include Axu Grassland, Duopu Valley Que'ershan and Xinluhai.
Dege Parkhang
Dege Parkhang, or Dege Scripture Printing Lamasary, is named the encyclopedia of Tibetan Culture, the Essence of Tibetan Culture and A Treasure by the foot of Snow Mountains. It is located in the town of Dege at Gengqingzhen. It was first built in 1729 and covers an area of over 9000 sqm.
Axu Grassland
Axu Grassland is believed by Tibetans to be the hometown of the legendary Tibetan King Gesar. This piece of grassland is located 230km northeast to the town of Dege. And it is 120 km away from Manigange town. The stories of King Gesar are still told by the people live on the grassland. The Epic of King Gesar, one of the greatest books in Tibetan history, was first composed somewhere at Axu. Despite its cultural significance, Axu is also a vey beautiful place.
Kasong Ferry
Kasong Ferry Eco Travel Zone is located at the border of Sichuan Province and Tibetan Autonomous Region by Jinsha River, the upper Yangtze River. It is 63 km away from Dege.
Mount Que'er
Mount Que'er or Que'ershan, is pronounced as Tsola in Tibetan, meaning wings of a giant bird. It is a big mountain range that located in the middle of Dege County, cutting Dege into two parts: to the east being nomadic area and west half nomads and half farming. This mountain range provides lots of water to Jinsha River and Yalong River. And in this range, there are over 30 5000+ peaks with the highest one called Mairongezha as high as to 6168 meters. Snow stays on the mountain all year round and it is the fourth highest mountain in Sichuan Province.
Xinluhai or Yunhun Lhatso
It is a beautiful and secluded lake by the foot of Mount Que'er by the National Highway317. It is a lake surrounded by mountain peaks and it is 100 km east to the town of Dege on the east side of Que'ershan Pass. Its elevation is about 4000 meters therefore in winter; snow even covers a large part of the lake.
Jiacha Castle Relics
Jiacha Castle is located at Gongyaxiang. It was constructed during the 12th to 13th Century by Gesar's brother before the Dege King. Gongya was the center political and economy center of Dege before it was defeated by Dege King until early 15th Century.
Dege Palpung Monastery
Palpung Monastery is a classic traditional Kham architecture. It is hometown of Tibetan paintings. It is located 100 km south to Dege town. It is a very secluded monastery that is far from big road and town. Palpung Monastery is the origin monastery of Gaju Sect, the white school of Tibetan Monastery. Palpung Monastery was built in 1179. It is one of the oldest monasteries in this area. The monastery is composed of Temples, prayer wheels alleys, libraries and stupas. It is also considered a small version of Potala by local people. A lot of Tibetan researches are conducted here including Buddhism, poetry, Mathmatics, calendar, astronomy and history.
Gengqing Monastery
It is the major monastery located in the town of Dege. It belongs to the Sakya Sect and a noble monastery founded by Dege King.
Manigange
Manigange is a small Tibetan cowboy town west to Dege. It is considered by travelers as mysterious and dreary. It was an outpost in the old times and today it still plays the role of an outpost. It is a single-street small town full of dusty shops and big trucks. Here you can see the local Tibetan Kham people dress in their traditional clothes, riding horses or maybe motorbikes.
Best Time to Visit
The best time to visit Dege is from May to October. Air is dry and day is short. Rain comes in from May to September. Temperature ranges from 5C during night time to 25C in day time in summer and in winter, temperature drops below -10 degrees.
Suggested Duration of Stay
Two days
Hand-Picked Valuable Sichuan Tours
Chengdu Jiuzhaigou HIghlights Tour - 5 Day

Route: Chengdu - Jiuzhaigou
Leshan Giant Buddha & Emeishan Mountain Tour - 5 Days

Route: Chengdu - Leshan - Emeishan - Chengdu
Mount Gonggashan In-depth Hiking – 9 Days

Route: Chengdu - Kangding - Gongga - Chengdu